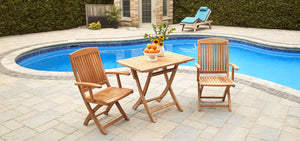 Luxury Patio Furniture for Sophisticated Outdoor Living
Crafting the Perfect Outdoor Oasis
★★★★★

I absolutely adore my new teak patio set from ARB! The craftsmanship is exquisite, and the comfort is unparalleled. It's truly transformed my outdoor space into a luxurious sanctuary.

Nancy M.

Los Angeles, CA
★★★★★

ARB's teak patio set has elevated my outdoor living experience to new heights! The quality, style, and durability are truly unmatched. I can't imagine a more perfect addition to my backyard retreat. Highly recommended!

Ronald G.

Weschester, NY
★★★★★

I am in love with my Adirondack chairs and leg rest set from ARB! The attention to detail and timeless design make it a stunning centerpiece for any outdoor space. It's an investment in comfort and elegance that I'm thrilled to have made.

Mary A.

San Francisco, CA
★★★★★

My dining set has exceeded all expectations. The exquisite design and exceptional durability make it a must-have for anyone seeking to create a sophisticated outdoor living space. Don't hesitate to purchase – you won't be disappointed!

Michelle S.

Stamford, CT
★★★★★

The teak park bench from ARB is nothing short of spectacular. It's beautiful, solid and of such high quuality. I am beyond pleased with my purchasel! Thank you.

Gianna S.

Dallas, TX
World-class
Products & Services
ARB Teak & Specialties is proud to offer sustainable teak resources for all of your bath, spa, and patio furniture needs. We only use the finest teak wood in our products, ensuring that your furniture will last for years to come.
CONSCIENCE & ETHICS
Sustainable resources
Our unyielding environmental conscience and ethics mean that you can rest assured knowing that your purchase is helping to protect our planet. Visit our blog section to learn more about our sustainable teak resources and how you can help make a difference.